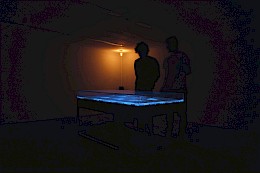 Artist Talk with Andreas Greiner & Tyler Friedman
Andreas Greiner und Tyler Friedman sprechen mit Desiree Förster über ihre künstlerische Praxis und Zusammenarbeit.
Der in Berlin lebende Künstler Andreas Greiner (*1979, Aachen) schloss sein Studium 2013 an Olafur Eliassons Institut für Raumexperimente ab. Im Rahmen seiner interdisziplinär angelegten Praxis nähert er sich auf experimentelle Weise naturwissenschaftlichen Phänomenen, technologischen Entwicklungen sowie einem auf Prozesshaftigkeit basierenden Skulpturenbegriff an. Jüngst waren Greiners Arbeiten in Ausstellungen des Sprengel Museums in Hannover (2017), des Neuen Berliner Kunstvereins (2017), des Art Center Nabi in Seoul (2017) und der Berlinischen Galerie (2016) zu sehen. Für sein Schaffen erhielt Greiner zahlreiche Auszeichnungen, darunter den Preis für junge Kunst des NAK Neuer Aachener Kunstvereins (2014) und den GASAG Kunstpreis der Berlinischen Galerie (2016).
Der Komponist, Produzent und Sound-Künstler Tyler Friedman (*1983 San Diego) studierte unter anderem Komposition am Reed College in Portland und an der Goldsmiths University in London. In seiner Arbeit verschränkt er Elemente aus dem Feld des Sound-Designs mit digitalen und analogen Studiotechniken sowie Methoden der konzeptuellen Imagination. Zu Friedmans wichtigsten Veröffentlichungen zählen die Eps Revolve (2012), und Vulkalaunai/Wallouian (2016). Ein aktueller Schwerpunkt seines Schaffens liegt im Bereich der performativen Musikologie. 2012 verantwortete Friedman unter anderem die musikalische Ausgestaltung des Films The Radiant der Otolith Group. Seit 2014 entwickelt er regelmäßig Projekte mit dem Künstler Andreas Greiner.
Desiree Förster ist Promotionsstudentin und akademische Mitarbeiterin am Institut für Künste und Medien, Universität Potsdam. Sie studierte Philosophie, Komparatistik und Medienkulturanalyse in Bochum und Düsseldorf, arbeitete u.a. als Programmassistentin am Haus der Kulturen der Welt (2013-2016), wo sie die Projekte "A Matter Theater" und "Technosphere" konzeptionell wesentlich mitentwickelte und teilweise koordinierte. Des Weiteren kuratiert und organisiert sie Veranstaltungen in Zusammenarbeit mit der freien Projektszene Berlins. Ihre Forschungsinteressen liegen in der experimentellen Erforschung des Verhältnisses von Mensch und environment, der Erprobung neuer Perspektiven auf den Menschen in Verbindung mit nichtmenschlichen Anderen – als verwoben in hybride, biotische und abiotische Milieus –, sowie den hier möglich und nötig werdenden soziopolitischen Handlungsfeldern.
Das Werk von Andreas Greiner entstand im Rahmen seines Stipendiums des innogy VISIT-Programms.